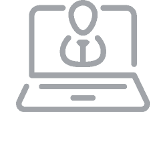 Support
Contact Us
Reach us by phone at 289-427-5759 or via email at support@sumill.com. If you require emergency assistance or support outside of regular business hours, please call and choose option "9" to leave a priority voicemail.
Support Ticket
Using our online ticket system, you can create a new support request or track your existing requests. Please contact us to have an account created.
Remote Session
In order to more efficiently troubleshoot your issue, we can initiate a remote support session to your computer. This will let us view & control your screen remotely to directly investigate the issue.