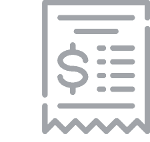 POS Software
Minding Your Store
Put your shop in trusted hands and have your Point of Sale (POS) system work the way your business works, rather than the other way around. Our mature POS software solution is lightweight, scalable, and fully customizable. Well-suited for both single and multi-store retail businesses, the Sumill POS system includes featureful base modules and can be further customized to suit your specific needs.
Feature List
Point-of-sale Registers
Returns
Defective/RMA Process
Inventory Control
Purchasing
Receiving
Forecasting/Re-Order
Sales Analysis/Reporting
Custom Sales/Promos
On-account Customers
Member Discounts/Points
Built-in & custom reporting
Branded documents (invoices, receipts, POs, etc.)
Automated print/email/fax of documents
Dedicated label printing
EFT and EDI integration with third-party systems
Direct data access for external reporting/analysis
Payment merchant integration
Unrivaled Support
We are always here for you! Support for your POS software is only a phone call or email away. Our experienced team of senior developers and IT engineers are able to help solve problems on an on-demand basis or under a monthly service contract.