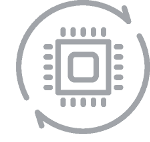 IT Solutions
Managed Services
Proactive management of your entire IT environment to help prevent problems before they can cause unexpected downtime. Benefit from remote monitoring and break/fix support for your mission-critical systems for a fixed monthly rate.
Technical Support
Fast, efficient, and cost-effective help desk service when you need it. Get back up and running with on-demand technical assistance from our senior support engineers at a competitive hourly rate.
Upgrades & Migrations
As your systems & business needs evolve over time, we can help take things to the next level. Whether it's time to refresh your aging hardware, upgrade to the latest software release, consolidate your existing workloads, or make the move to the cloud, we can guide the way.
IT Assessments
Has it been a while since your IT systems have been updated? Not sure how long you've got left on that old server? Does your network lack proper documentation on how it all works? We can review your entire environment, document all of the components, and give recommendations on how to keep things running smoothly.
Custom Solutions
Do you have an unusual set of requirements or want to try something new? We love tackling new & interesting problems, and developing custom solutions that can improve your business processes. Our experience as both engineers & programmers gives us a unique perspective to help build a custom solution for your business.
The Power of Open Source
We have years of experience in leveraging the power of open source to bring incredible value to our customers' business processes. Whether it is Linux-based servers or other open-source software, we can help you take advantage of these enterprise-ready open source solutions within your business.