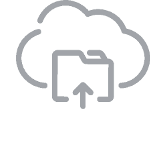 Cloud Backup
Protect Your Data
Protecting your data is more important than ever. Data loss can affect anyone and can strike through hardware failures, accidental deletions, and malicious attacks from viruses or ransomware. Our cloud backup solutions help protect your valuable data and ensure that you can quickly recover from unexpected data loss.
The 3-2-1 Rule
The 3-2-1 rule is a key principle in data protection, and one which we both preach and practice:
3 copies of your data should exist (at minimum)
2 copies should be stored on different media
1 copy should be stored securely off-site
Secure Cloud Storage
Our secure cloud backup provides automated nightly backup of your data to our secure cloud storage. The backup jobs are fully monitored and managed, which means we take care of everything.
Your data is encrypted both in-transit and at-rest, and retained with daily, weekly, monthly, and yearly restore points. Enjoy the peace-of-mind of an automated, reliable, and secure cloud backup solution for your critical business data.
Hybrid Solution
Sumill's hybrid backup solution combines the benefits of off-site cloud storage and local backup. A local copy of your data allows for faster data restore & recovery operations, while still having a secure, remote copy of that data synchronized in the cloud.